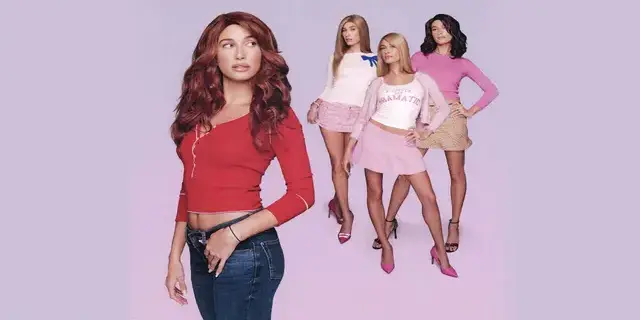 Halloween is a very fun festival and many beauties and celebrities have put their efforts and spread their magic on it and every bit of it is loved by the fans. A lot of effort has really been put in by these celebrities, Demi Lovato gave herself a Snow White look which looked amazing. Kim Kardashian recreated Alicia Silverstone's look from the 1995 film Clueless. Amidst all these beauties, Hailey Bieber gave herself a "Mean Girls" look that caught everyone's attention. Hailey Bieber posted some pictures on Instagram on Tuesday. Looking at the pictures, it seemed that she had posted this as a reply to the haters
Hailey Bieber's fans flooded her comments section with love and only love
Hailey showed different looks on Halloween-Hailey was seen recreating the poster for the 2004 film Mean Girls. She was wearing a Cady Heron-like dress worn by Lindsay Lohan. Another glimpse of Hailey Bieber was seen in which she also took many other forms like Rachel McAdams' Regina George, Amanda Seyfried's Karen Smith, and Lacey Chabert's Gretchen Weiner. The poster that came had it written that "Hailey Bieber and Hailey Bieber Mean Girls."
The second picture of Hailey that came had a note written on it which was along with the drawing. It was written on this picture that now they have got girls, this girl is the worst girl of them all, she cannot be trusted, she is a rubbish girl… Hailey Bieber. While sharing the post, Hailey wrote that she does not even go here and wishes everyone a Happy Halloween.
Fan's loving comment on Hailey's post –
After some time, many comments were made by all the fans of Hailey Bieber, in these comments the fans showered love and only love for Hailey Bieber. In one of the comments, a fan wrote that Hailey said all this to those people who think that she is a rubbish and mean girl. The second comment that came was that Hailey is roasting those people who hate her. One user said that Hailey has won Halloween again.
Selena was trolled by the Kylie and Hailey-
After it was revealed that Kylie Jenner and Hailey Bieber had allegedly trolled Selena Gomez, Selena Gomez became the most followed woman on Instagram, surpassing the founder of Kylie Cosmetics. Amidst all this chaos, this American singer decided that she would take a break from social media and all of Selena's fans were labeling Hailey Bieber and Kylie as "Mean Girls". But it is believed by many that Hailey Bieber has decided to level it with her Halloween costume. A post was shared by Selena on Instagram in the month of February in which she wrote that she had deleted this post once because she felt that it was a bit much now but she now wants to take a social break.
This post came by Kylie Jenner and Hailey Bieber when they married Selena Gomez's ex-boyfriend Justin Bieber, that is, if seen, this post was posted to troll the singer